UNDERWATER SEARCH AND RESCUE
Kitsap County, Washington.
For emergencies, call 911
Interested in joining our group- Drop in on our monthly meeting the last Thursday each month. 7 PM @ Sound Dive Center in Bremerton.
Underwater Search and Rescue of Kitsap County is a volunteer, non-profit organization.
We assist the Kitsap County Sheriffs Office with Water Search and Recovery missions.
When asked, we work with other Washington State counties.
A number of our members also volunteer as rescue divers for Hydroplane races.
Our meetings are held the
last Thursday of each month
at
5000 Burwell St., Bremerton, WA 98312.
Meetings start at 7:00 p.m. We are always looking for new divers and offer training sessions in search and rescue.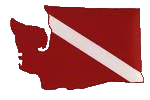 The following is examples of gear, supplies and services Underwater Search and Rescue can accept: (In most cases, donations are tax deductible, but be sure to consult your tax advisor.)

Intact, working boats (preferably w/trailer) of various sizes for surface support of rescue divers.

Properly functioning dive gear for rescue/recovery missions.

Working Compressors or compressors in need of minimal repair.

Air fills.

Spools of marine grade rope, hooks, brass screws and brass bolts.
For information about donating services or equipment, or becoming a volunteer yourself, then please email or call (253)-851-4574.
Training Schedule | Newsletter | Archive | Gallery |
Washington Search and Rescue Volunteer Council | Washington State Emergency Management
Contact Wanda Hightower for further information.